:: Company Profile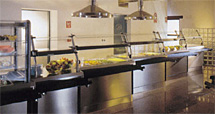 Solarco Group was established in Lebanon in 1960. Its original field of expertise covered the study of Food and Laundry Services needs in large projects. Solarco proposes a comprehensive and complete list of Kitchen and Laundry equipments to major clients in segments ranging from hotels through big catering organizations as well as hospitals, restaurants, bakeries, pastries, schools, communities, etc.

Solarco quickly became a brand recognized as one of the leading Catering specialists in the Middle East.

Today Solarco expanded its activities by creating an Electronic Division (Light and Sound control for hotels and Convention Centers) as well as its own manufacturing plants (for the manufacture of static kitchen preparation equipments).

Solarco is also aggressively expanding regionally and plans on leveraging its brand name and wide expertise to reach all segments in all markets around the Middle East, Arabian Gulf and Africa.

Solarco holds exclusive representation agreements with some of the most important firms in the field and covering such countries as the United States, Italy, France, the United Kingdom, Germany, Spain and Sweden.

In its 40 years of activities in the Industrial Kitchen and Laundry industry Solarco has covered projects for all the major Hotel Chains such as:
Intercontinental chain

Starwood/Sheraton/Four Point/Holliday Inn/Crowne Plaza chain

Metropolitan Hotels

Hilton Hotels

Movenpick Hotels and Resorts

Rotana Hotels

Radisson SAS Hotels

Kempinski Hotels and Resorts

And many others...
The Solarco Group prides itself in having built the most prestigious list of reference in the Middle East. It can be accessed in the List of References tab and we will be happy to share it upon demand.