Solarco Kitchen and Laundry Division: For the past 45 years Solarco has thrived in the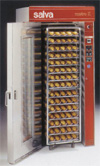 Industrial Kitchen and Laundry industry and has performed sales and customer support activities for prestigious client in many diverse markets such as Western and Eastern Europe, North Africa and Sub-Saharan Africa, as well as all countries in the Middle East and in the Gulf area.

Solarco Electronic Division: In the 90s, Solarco expended its field of expertise and created a light and sound division. This division specializes in sound reinforcement, public address, theatre lighting, entertainment lighting, and architectural dimming systems for major hotels, hospitals and academic institutions.

Solarco Industries: In order to increase its competitivity in an ever-increasingly challenging and competitive market, Solarco established its own 'static preparation' equipment production capability in 2000. This subsidiary is capable of producing all stainless steel-based equipment such as tables, sink units, shelves, cupboards, canopies, hot cupboards…etc as well as more complicated customized refrigerated equipments. Solarco Industries products quickly became recognized as one of the region-wide standards for these product lines for most major hotels in the region.

Solarco International: After having served international and regional clients from its Solarco Group head office in Lebanon Solarco has recently opened its first regional office in Dubai (U.A.E.) where it is able to sell and offer complete support services for its comprehensive list of Kitchen and Laundry Suppliers.